Lizzy Hoffmann founded Urban Bliss Yoga in 2006 in North Carolina.
Her first yoga teacher was her mother, who taught her this ancient science in the late 1960's and 1970's. Her mom studied with gurus like Muktananda, Satchitananda, and Roy Eugene Davis, and opened Lizzy up to the experience of yoga at a very young age. This would shape Lizzy's perspective as a young girl and instill in her the values of yoga, such as Ahimsa and conscious vegan eating, which have become lifelong practices for her.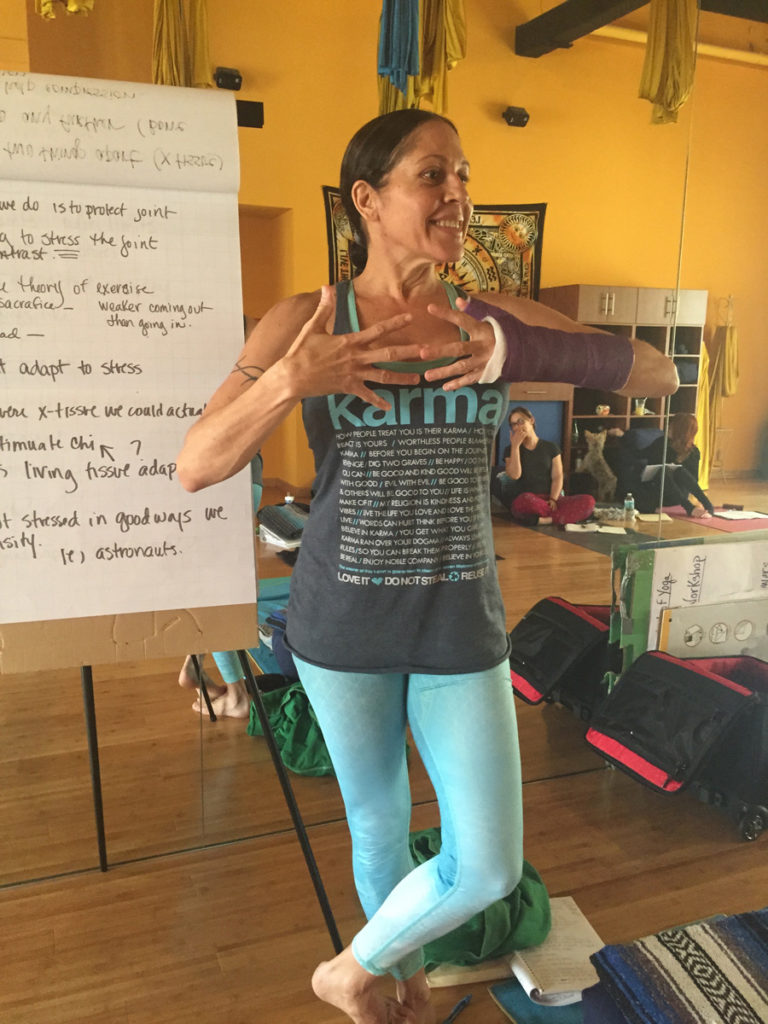 In her youth, Lizzy began dancing with a deep passion and interest. By the time she graduated high school, she was working with professional dance companies across the United States. She received a degree in Dance, Kinesiology, and Choreography in 1986. She considers the joy of movement to be an expression of the miracle of life, a constant source of inspiration.
After exploring dance for many years, Lizzy entered the fitness world with the same fervor she did with dance. She became a presenter for major fitness companies and traveled around the world sharing health and wellness with others. This worldwide journey would lead her full circle back to yoga, to Miami's Yoga Shala in Southern Florida. It was here that she was introduced to her teacher, Paul Toliuszis, and earned her 200 hour Registered Yoga Teacher designation. She has since taught innumerable classes inspired by the Ashtanga Yoga Primary Series. In 2006, she founded Urban Bliss School of Yoga and now leads teacher trainings across the southeastern United States.
Lizzy continues to be inspired by teachers like the late Georg Feuerstein, with whom she studied directly for 3 years totaling over 800 hours, and the late Sri. K Pattabhi Jois. She is certified on the 1,500 hour level and holds an E-RYT 200 & E-RYT 500 status with Yoga Alliance. She has a vast knowledge of Yoga History, Yoga Philosophy, Yoga Literature, Yoga Therapy, Asana sequencing, Yin Yoga, Holistic Therapeutic Yoga, Yoga for Pregnancy, the Ashtanga Yoga Primary series, and more.
Watch Lizzy teaching a yoga teacher training below.
For more insight into Lizzy and her Yoga School, URBAN BLISS, you are encouraged to read further reviews on the Yoga Alliance website.